How to change weather on Fitbit Versa 3
Is your Fitbit Versa 3 showing the weather forecast or the current temperature in Fahrenheit instead of Celsius or vice-versa? Do you want to change it but don't know how?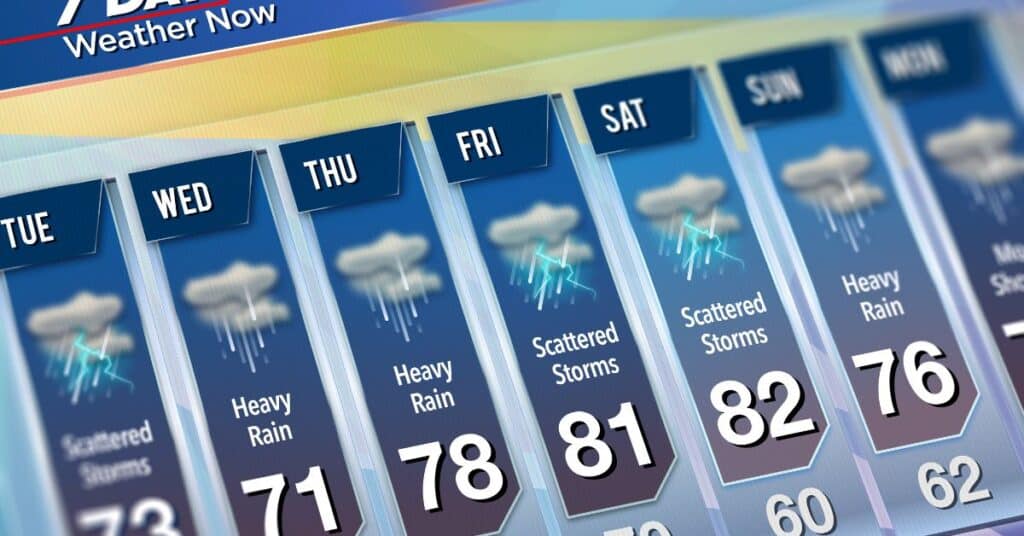 While you are researching the Fitbit, check out the Fitbit page along with bookmarking these other popular articles for future review: The Ultimate Guide To Smartwatches With Fall Detection, How to Change Fitbit Sense Weather to Fahrenheit: A Step-by-Step Guide, and Here's Which Smartwatches Can Detect Afib (Must Read!)
To change the weather on your Fitbit Versa 3, go to the Fitbit app, click on the Fitbit device, and navigate to the Gallery. Scroll down to the Weather app option, and choose settings. Check the preferred Temperature Unit (Celsius or Fahrenheit), and then click Done. Return to the Fitbit menu to click on 'Sync Now' to sync these changes to your Fitbit Versa 3.
Since Fitbit Versa 3 is one of the models that support a weather widget, changing the weather on its app is as easy as syncing it to your smartphone. I learned this method which I have shared here, from the Fitbit Community page, and have successfully changed the weather using it.
Fitbit Versa 3 Weather App
Fitbit Versa 3 is an evolution of the Fitbit Versa 2, so there are the PurePulse 2.0 technology and all the features you already know from the Fitbit Versa 2, see sleep detection, heart rate detection, etc.
In addition, it features a GPS sensor, so it can follow your routes without carrying the phone. Not only will you be able to find out the distance traveled, but you will also access a breakdown of the intensity by sections to see which areas have cost you the most and in which you have been most comfortable.
Besides these features, Fitbit Versa 3 is one of the Fitbit models that have a weather app. The weather app lets me stay informed about weather alerts right from my wrist and make informed decisions accordingly.
The Weather app allows me to stay updated about weather changes or any dire weather warnings from anywhere, check the accurate weather forecast, access all local and international weather updates, and know the exact temperature and other conditions like humidity, sunset, sunrise, visibility, gusts, etc., daily.
Step-By-Step Guide to Changing Weather on Fitbit Versa 3
To change your weather on your Fitbit Versa 3:
Open your Fitbit app, and go to your profile picture in the top left corner
Click on your picture, scroll down the App settings and then tap on 'Settings' to open another list
Click on Units and scroll down to your preferred temperature unit, Fahrenheit or Celsius, and choose one by clicking beside it.
Once you change the weather unit, return to the account menu, and tap on the top where it says, 'Fitbit device'
Navigate to the Gallery and click on it
Scroll down to lick on My Apps, which pulls up the Weather app page
Again click on Settings to check on the Temperature unit
If it's still unchanged, click on your preferred unit again and then tap on 'Done'
Now return to your device's menu, and tap on 'Sync Now' to sync the changes to your Versa 3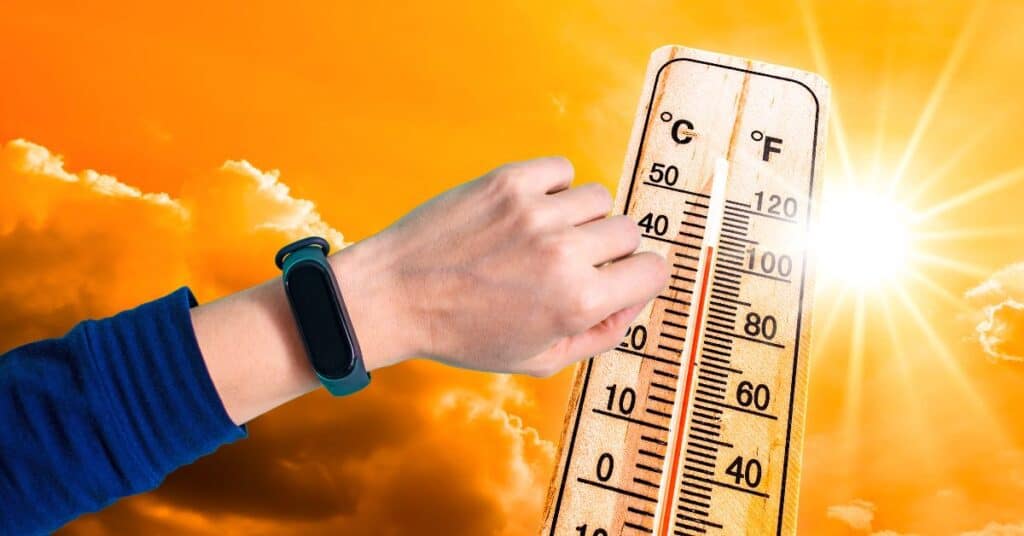 How Can I Set Up My Fitbit's Weather App
To set up Weather app on your Fitbit Versa 3:
Go to your Fitbit app on your synced smartphone, and check on the settings to ensure you have selected 'Always' or "allowed all the time' in your Location Access permission.
Plus, ensure that your Versa 3 can access your Bluetooth and Cellular Data and the Background App Refresh.
If you're using an android smartphone, you also need to checkmark Unrestricted Data Usage in your Fitbit app on your smartphone.
While on the charge, put your smartphone and Fitbit Versa 3 close to each other, and open the Fitbit app on your smartphone.
Under the Fitbit app, click on the Display picture of your account profile, and scroll down to App Settings.
Click on Automatic Location to choose your location
Go back to the Fitbit app main menu and click on the Fitbit watch from the list that pulls up
Tap on Gallery. Now on the top, you can see the Fitbit watch, not the Clocks or Apps.
Now Scroll down to My Apps, and click on the Weather app
Upon clicking on the Weather app, it must indicate 'Installed' If not, install at this point.
Go down the list and Click on Weather app Permissions. The best is to tap on 'Select All' when setting permissions for your Fitbit app.
Now go back again and Click on Settings to set the unit. Under the Temperature Unit, you can tap on your preferred unit (Fahrenheit or Celsius)
In the location setting, you can select up to two other cities in addition to your current location. To do this, select Add City and write the Zip Code and other details.
Finally, to sync your Fitbit versa 3 with your smartphone, return to the setting and choose 'Sync Now' and wait for it to connect.
Now your weather app is set up on your device. Check if everything is completed and accurate by opening the weather app on the watch.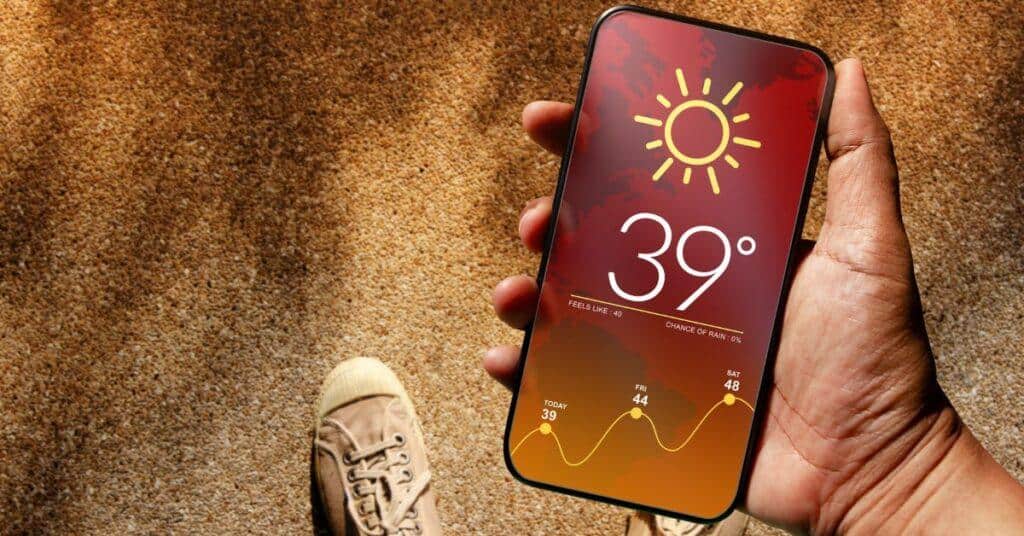 What to Do if Your Fitbit Weather App Won't Update
If you're having trouble updating your Fitbit weather app, you can solve this issue in the following ways:
Set Your Location Again
Sometimes the issue of weather updates gets resolved by adding the location again. To do this, remove the current location, and add it again, forcing the app to show your region's latest weather forecast. If it doesn't work, remove your location, change it to another city, and then again to your current location.
Disable Battery Optimization
Battery optimization might be the reason that's stopping data updates from the Internet. To resolve this, go to the settings and remove the weather app battery optimization.
Remove Data Restrictions
If your mobile app depends on mobile data, there is a chance that
Background data restrictions also prevent your Fitbit app from receiving updates. To change this, go to settings to turn off data restrictions.
Reset the App
By resetting the app, you can also solve the weather update issue. Restart the app and change your location following the first step. You can also reinstall the app to see if the weather gets updated.
Reboot Your Device
The last resort is rebooting your smartphone when none of the above methods fix the problem. Turn off your smartphone, and then turn it on again. Go to the weather app to update it.
Key Takeaways
Changing Weather on your Fitbit Versa 3 is as simple as syncing it to your smartphone
Go to the Fitbit app on your smartphone, and navigate to the Gallery
In the weather app option, choose settings to select your preferred Temperature Unit
Click Done and then Click on 'Sync Now,' and you're ready to go with your Fitbit Versa 3.