Do Garmin Watches Work With iPhones? All Of Them?
Garmin watches have become extremely popular ever since they were launched. But do they work with iPhones?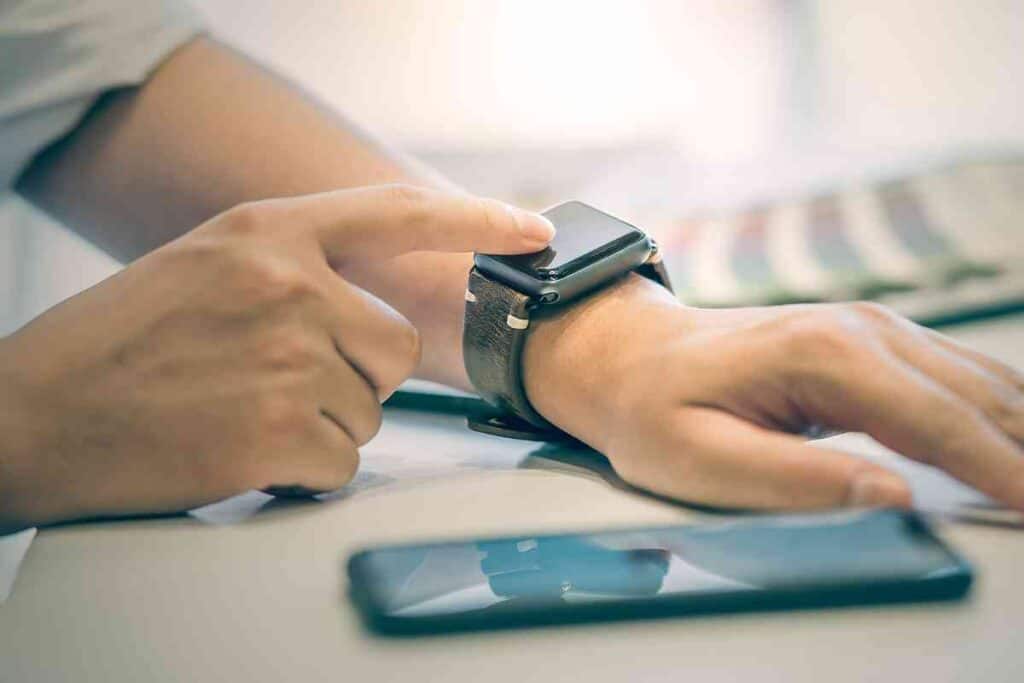 Researching the Garmin Smart Watch? Be sure to bookmark the Garmin category page and these popular articles to read next: Here's how many years a Garmin watch lasts. Can you wear the Garmin Watch on the inside of your wrist? and Does Garmin Watch measure body fat?
Do Garmin Watches Work With IPhones?
A Garmin watch can work with iPhones through the Garmin Connect application. Also, ensure the iPhone uses iOS 7 or a higher version. Otherwise, you will face compatibility problems, making it impossible for your Garmin watch to connect to a mobile device.
We have been using Garmin watches with iPhones for a long time, and the results have been flawless. In the following paragraph, we discuss the Garmin models suitable for iPhones. We will also educate you on pairing a Garmin watch with an iPhone.
The Best Garmin Watches That Work With iPhone
Garmin Venu
Currently On Sale
Garmin 010-02173-11 Venu, GPS Smartwatch with Bright Touchscreen Display, Features Music, Body...
Beautiful, bright amoled display and up to five-day battery life in smartwatch mode; Up to six hours in GPS and music mode
The broadest range of all-day health monitoring features keeps track of your energy levels, respiration, menstrual cycle, stress, sleep, estimated heart rate and more
Easily download songs to your watch, including playlists from Spotify, Amazon music or Deezer (may require a premium subscription With a third-party music provider), and connect with headphones (sold...
The Garmin Venu is one of the best watches to pair with an iPhone. This watch is designed to be an activity tracker. It is equipped with a 1.2-inch AMOLED optical touchscreen, which is always on.
As you work out, it can connect to iHeart Radio and Spotify to give you ample entertainment. It has 4GB internal storage that can save hundreds of your favorite songs.
It is also waterproof and offers an ATM rating of five. You can wear it while it rains, in the shower, or swimming.
The Garmin Venu also has an ANT Plus sensor, which makes it easier for the watch to connect to treadmills and other fitness equipment.
The Garmin Venu is your watch if you want to track your running or cycling progress in the Garmin Connect app. It is conducive to cycling since the band contains a cadence sensor that counts your paddle revolution every minute.
Advantages
Helps track various activities.
The screen responds well to the touch.
Navigating the display is extremely easy.
Disadvantages
Sadly, the results aren't always accurate.
Garmin Vivoactive 4
Garmin 010-02174-01 Vivoactive 4, GPS Smartwatch, Features Music, Body Energy Monitoring, Animated...
Keeps track of your energy levels, Pulse Ox (this is not a medical device and is not intended for use in the diagnosis or monitoring of any medical condition), respiration, menstrual cycle, stress,...
Easily download songs to your watch, including playlists from Spotify, Amazon music or Deezer (may require a premium subscription With a third-party music provider), and connect to headphones (sold...
Record all the ways to move with more than 20 preloaded GPS and indoor sports apps, including yoga, running, swimming and more.Strap material:Silicone
To make healthy lifestyle changes, you should opt for a Garmin Vivoactive 4. This watch allows you to track your activities effectively.
It has an expansive 1.3-inch screen protected by gorilla glass to prevent abrasion and cracks. The screen is clear and easy to read.
What distinguishes this watch is the MIP technology of its screen. It makes the screen sunlight visible and trans-reflective. You can use this watch for outdoor activities like running, cycling, and also while playing sports.
The watch also has a fitness coaching feature. It takes instructions directly from the field and places them on your wrist. Unlike the previous watch on this list, the Vivoactive 4 smartwatch by Garmin is very accurate when tracking metrics.
The band on this watch has different sensors for respiration, sleep, and hydration. It also has a pulse oximeter, and the results are accurate nine times out of 10.
With that being said, if you are shopping around for a smartwatch that tracks your heart rate, the Vivoactive 4 by Garmin is the watch for you.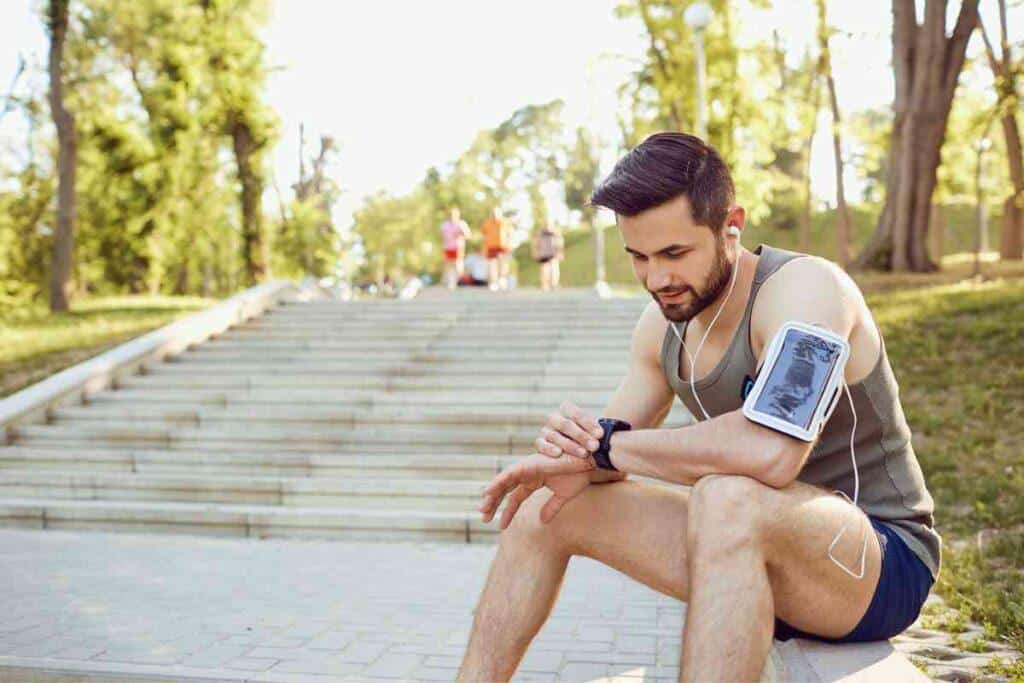 Advantages
Has a decent battery life.
The screen is protected through corning gorilla glass.
It also supports cashless payments.
It is equipped with various sensors and also offers live coaching.
Disadvantages
The heart rate and ANT+ features aren't available for broadcasting.
Doesn't offer a good battery life in GPS mode.
Garmin Fenix 6 Pro
Garmin fenix 6s Pro Solar, Smaller-Sized Multisport GPS Watch with Solar Charging Capabilities,...
Smaller sized solar powered Multisport GPS Watch uses a Power Glass solar charging lens and custom power manager modes to achieve long-lasting battery life
Train with a rugged yet sophisticated Watch, featuring an always on 1.2 Inches display, a comfortable fit and a stainless-steel bezel
Track surfing sessions with a new dedicated activity profile, and even use Surfline Sessions, which creates a video of every wave you ride in front of a Surfline Camera
If you seek a heavy-duty smartwatch compatible with iPhones, the Garmin Fenix 6 Pro is the watch for you. It is a waterproof watch with a rugged design.
The watch tracks your heart rate from your wrist and accurately monitors sleep metrics using the Pulse Ox technology. The Pace pro feature offers valuable guidance and helps you pursue diverse physical activities of varying intensities.
As far as outdoor navigation is concerned, this watch allows the user to stay on track using a variety of preloaded maps.
It also has a powerful GPS that keeps you from getting lost in a new place.
Advantages
With a single charge, the battery stays for 14 days.
It helps you make payments with Garmin Pay.
Offers advanced mapping with a 3-axis compass and GPS.
Disadvantages
Short battery life in Music or GPS modes.
The contactless payment option isn't available in some countries.
Difficult to read in low-light conditions.
Weather info needs work to ensure accuracy.
How to Sync a Garmin Smartwatch to an iPhone
Launch the Garmin Connect app on your iPhone.
On the Home screen, tap on the "More" option.
Next, press the direction button to access "Garmin Devices."
Then, tap on "Sync" to start the pairing process.
Next up, access the Bluetooth settings on your iPhone, and select the Garmin device.
It will take some time before the Garmin watch is saved to your list of devices.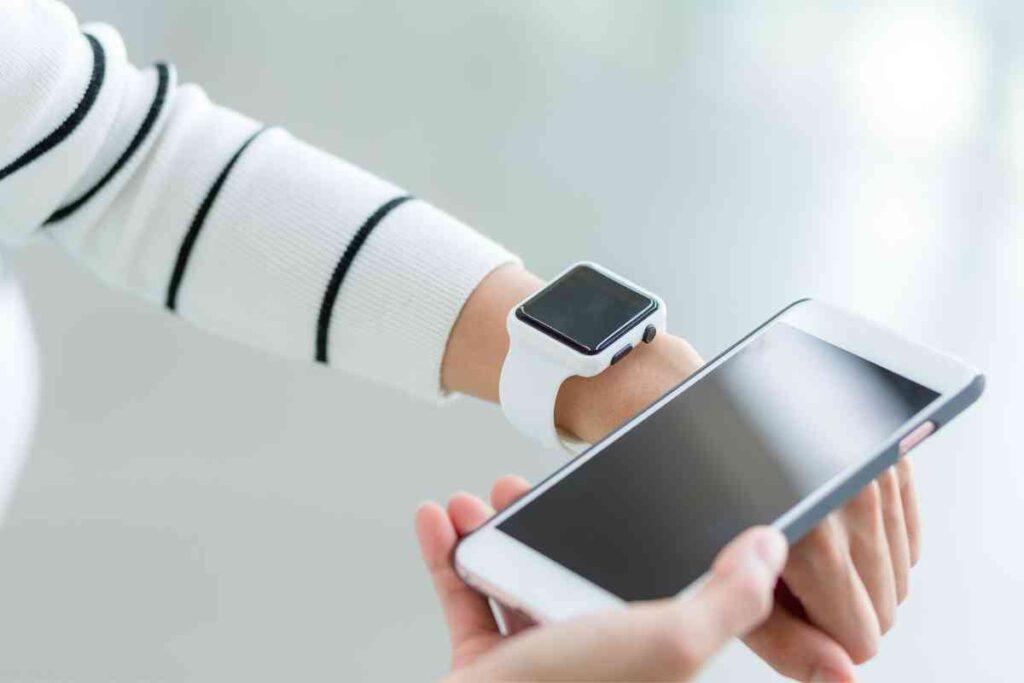 What If the Garmin Watch Refuses to Sync to Your iPhone
Perform a Hard Reset
If your Garmin smartwatch has problems and refuses to connect to your iPhone, the issue could be with the watch, not the iPhone. Sometimes, performing a hard reset is your only option.
To hard reset your Garmin watch, press and hold the power button. Allow the Garmin watch to stay turned off for at least five minutes.
After your five minutes elapse, press and hold the power button on your watch until the watch starts. The display will light up when the device turns on, and you can sync it again.
Upgrade the Garmin Connect
First of all, launch the App store on your iPhone. In the search field of your app store, type "Garmin Connect" and press search.
When the results show up, click on the Garmin app installed on your iPhone. Instead of pressing the "download" button, look for the "update" button, and press it. Wait for the update to complete.
After completing the upgrade, try connecting the watch to your iPhone. Make sure the Bluetooth is turned on.
Re-Add the Garmin Watch
To begin with, launch the Garmin connect app on your iPhone. From there, go to "my devices." On your list, locate the Garmin watch you're trying to connect. Now, remove your watch from the app.
Next up, go to the top of the tap and press "add the device." There, you will find instructions to re-add the app.
Factory Reset the Watch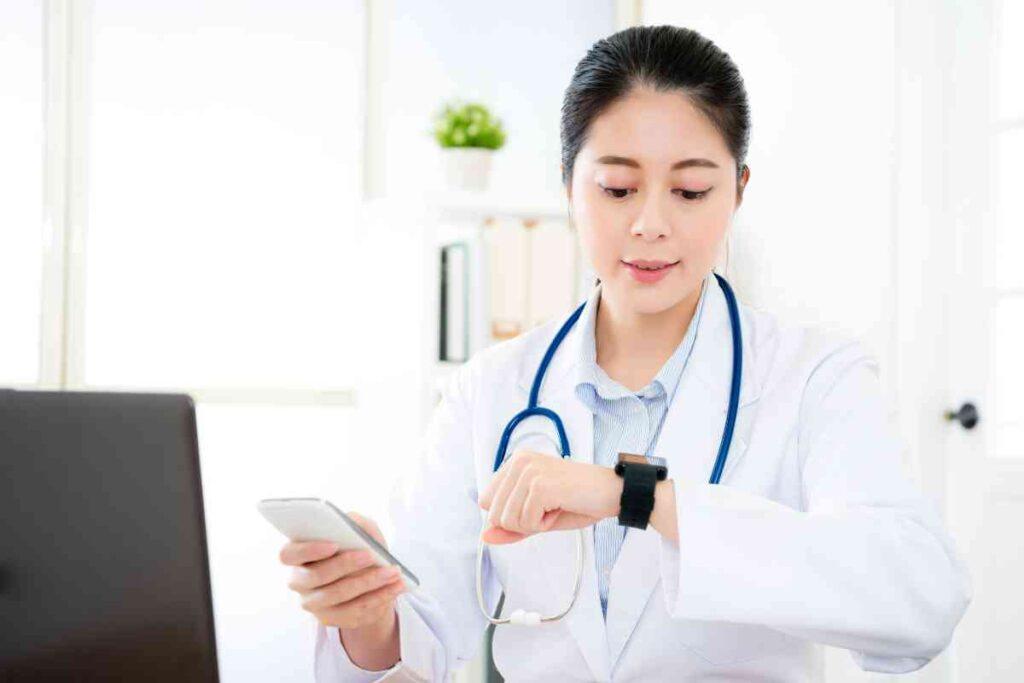 Press the power button to turn off the watch. When the watch shuts down, press the "lap" option, and hold it. While holding on to the lap button, press the power button.
The moment the "reset option" appears, let go of the lap button. Next, confirm that you want all the contents deleted from your Garmin watch.
It is worth noting that all the settings and all the contents will be deleted in the case of a factory reset. After the factory reset, you must redo all your settings.
Key Takeaways
To connect a Garmin watch to an iPhone, you must have iOS 7 or later versions.
The best Garmin watches for the iPhone are the Vivoactive 4, the Fenix 6 Pro, and the Venu.
If the watch refuses to sync to your iPhone, you should try to hard reset the watch.
Or upgrade the Garmin Connect, Re-Add the watch, or factory reset the watch.