Here's Why Your Heart Rate Is Red On Apple Watch!
When using your Apple Watch to assist you during your workout, a shining red heart rate symbol and number may be concerning. You may be curious if your heart rate is too high or if it's not high enough. Let's find out the real reason why your heart rate might turn red on your apple watch, and how to fix it.
The Apple Watch workout app may display the Heart Rate in red because the workout view is set to multiple metrics, and the heart rate metric is displayed. The user can change which metric is displayed by rotating the digital crown. The workout view can be changed to Single Metric in the Watch App.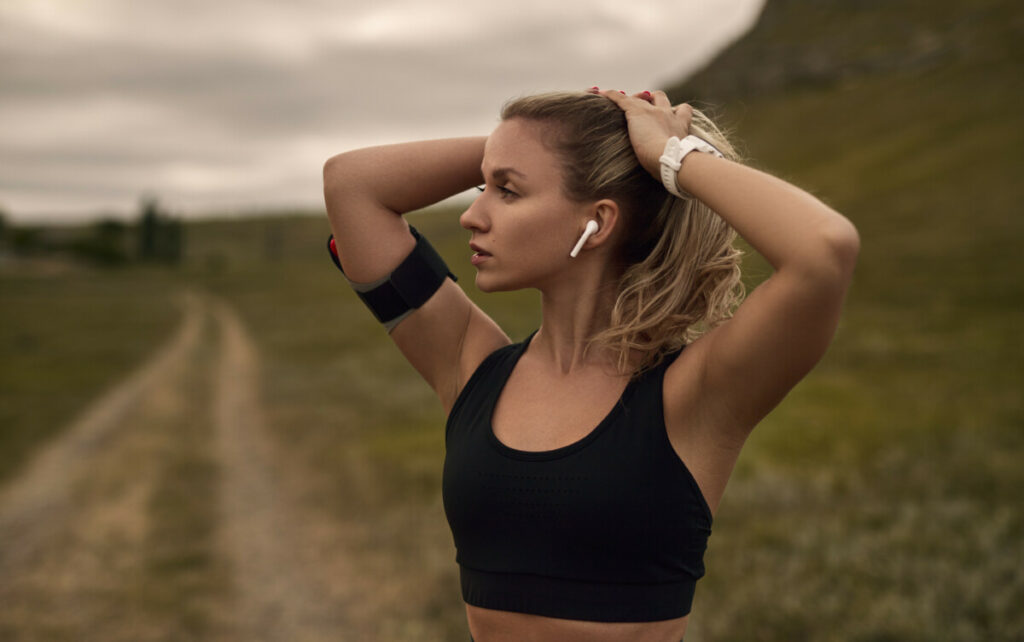 Now that you know the red heart rate is nothing to be concerned about, keep reading to learn more about why the Apple Watch displays it this way. We will go in-depth on how to change the workout view or select which metric is highlighted so you can better understand your Apple Watch.
Why Heart Rate is Highlighted in Red
Your Heart Rate is red simply because it is highlighted among all the other metrics you have set up for your workout. Multiple metrics will appear on your Watch when you have your workout view set to Multiple Metric rather than Single Metric.
This means that your Heart Rate is displayed in red, which helps make it easier to see the number while you're moving so you can keep track of any changes. So, whenever your heart rate is selected and displayed using your Digital Crown out of all the other metrics, it will appear in red. Other metrics selected using your Digital Crown will also be highlighted in red.
The red color doesn't necessarily mean that your heart rate is too high or too low. If your heart rate is actually too high or too low based on the default BPM threshold or the custom threshold you've changed it to, and it remains that way for an extended period, your Apple Watch will notify you.
This will let you know that you need to slow down your workout or take a rest so that you can regulate your heartbeat before resuming your workout.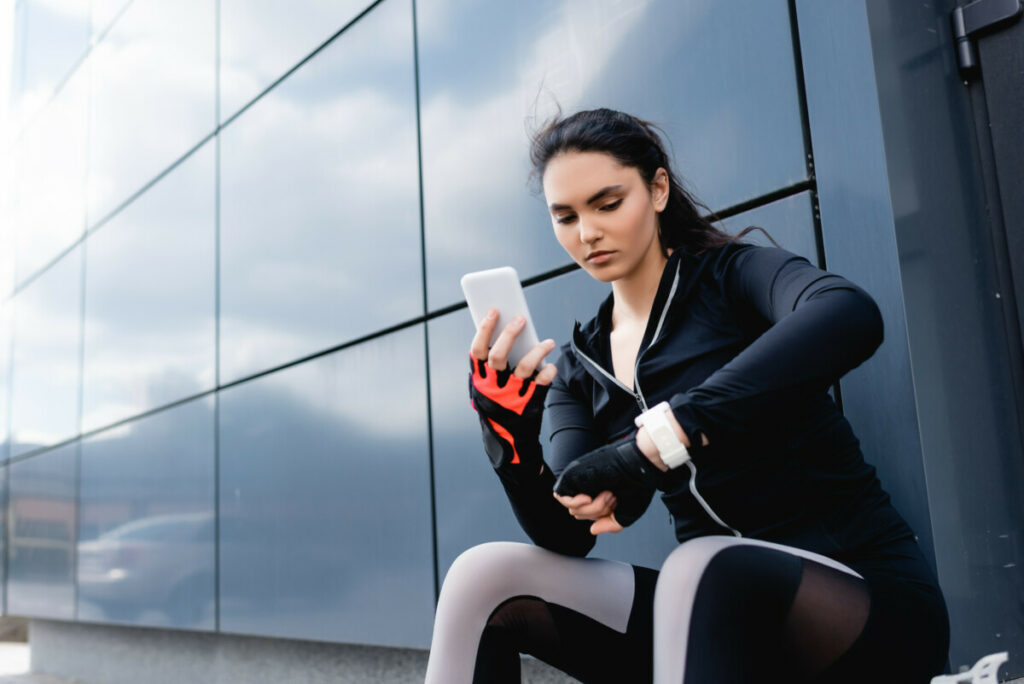 To adjust your heart rate threshold, open the Apple Watch app on your iPhone, bring up the My Watch tab, then select Heart. Tap High Heart Rate and choose a maximum BPM for workouts. Then, tap Low Heart Rate and choose a minimum BPM for workouts.
If you're unsure of your maximum heart rate, subtract your age from 220, and this will be your maximum BPM during a workout. The average resting heart rate is 100 Beats Per Minute, so you can adjust your Low Heart Rate based on a desired steady heart rate that is above 100.
How to Change Which Metric is Highlighted in Red
While in workout view, you can change which metric is highlighted in red by turning your digital crown on the side of your Apple Watch. This will scroll through all the selected metrics in your multiple metric workout view.
Other metrics, besides Heart Rate, include:
Power
Segments
Splits
Elevation
Pace
Cadence
Duration
Distance
Running Stride Length
Ground Contact Time
Vertical Oscillation
These metrics may be highlighted as you scroll through using your Digital Crown, and they can be edited for each type of workout using the Apple Watch app on your iPhone.
How to change Workout View from Multiple Metric to Single Metric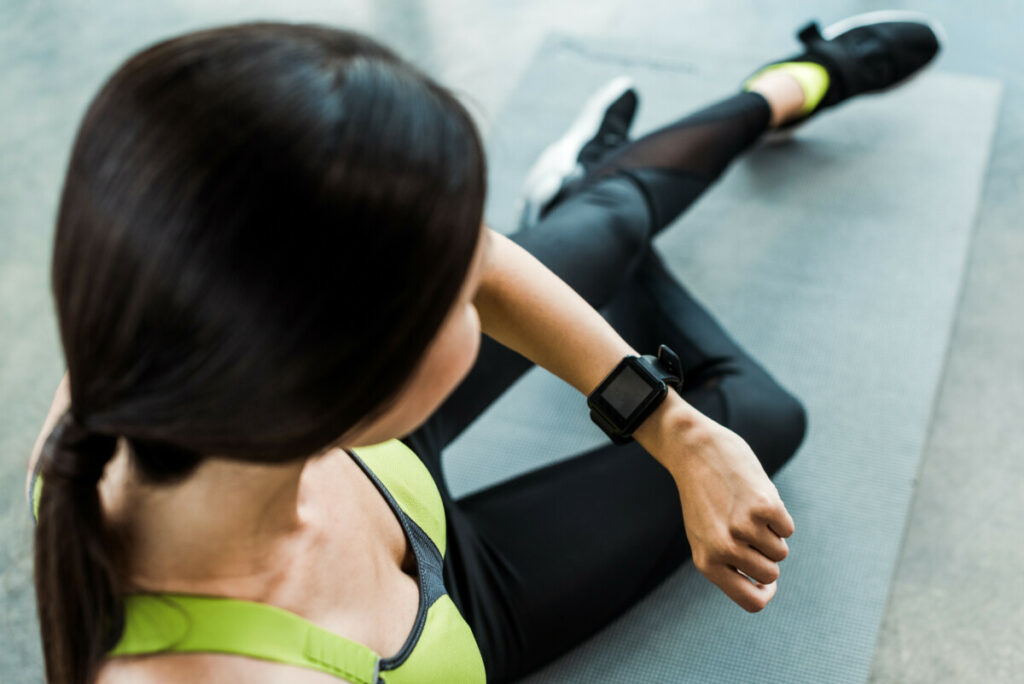 Multiple Metric is generally the default workout view setting, but you can change it using your iPhone. First, open the Watch app on your iPhone, then tap the Workout app on the My Watch tab. Tap Workout View at the top of the workout screen. You'll see that right next to this option that it says "Multiple Metric." Tap Single Metric so a check appears next to it.
You can then select which metric you want to appear alone on your workout app and add multiple workouts with different single metrics. Because you're now in single metric mode, the metric will not appear in red, because there is no reason for it to be highlighted if it's the only metric.
How to Turn on Greyscale on Apple Watch
When you have grayscale turned on on your Apple Watch, your heart rate will appear a darker shade of gray rather than red so that it stands out better. This will help keep the red metrics from distracting you during your workouts, and it's better for your eyes overall because the grayscale filters out blue light, which causes eye strain. Plus, it will help you save battery power, extending your watch life between charges overall!
To enable grayscale on your Apple Watch, open the Apple Watch app on your iPhone. Tap General, then tap Accessibility. Scroll until you find the Vision heading, press the toggle next to Grayscale to turn it on, and the circle inside the toggle will shift to the right, causing your screen to turn gray.
Customize Metrics for Different Workouts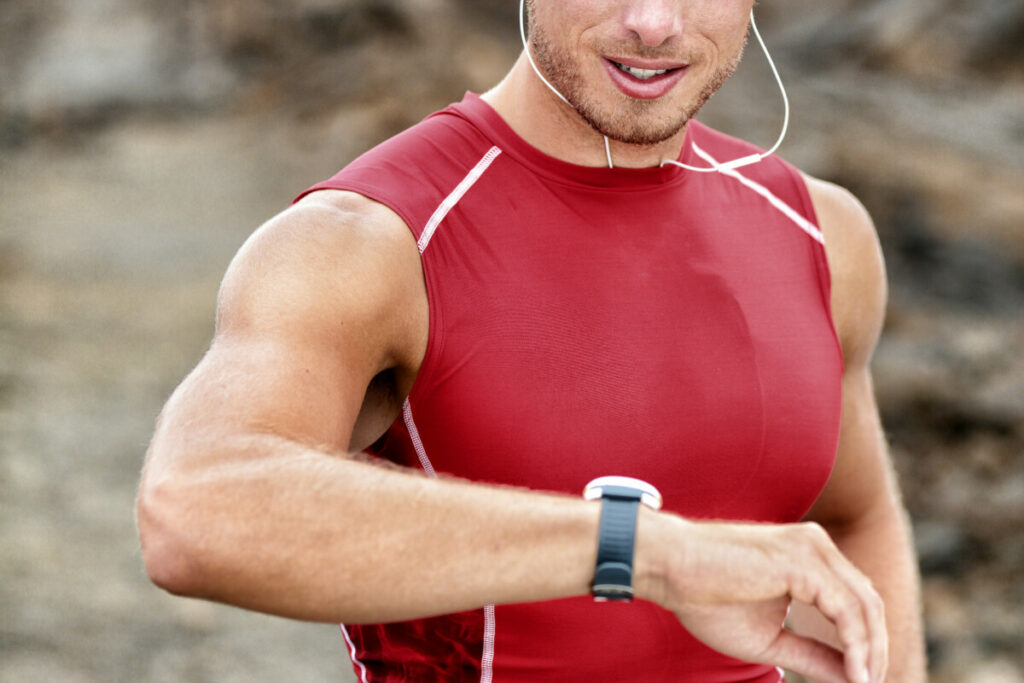 You can customize which metrics and their numbers come up on your watch, which you can scroll through using your Digital Crown, for each workout using the Apple Watch app on your iPhone. The different workouts include:
Outdoor/Indoor Walk
Outdoor/Indoor Run
Outdoor/Indoor Cycling
Cooldown
Elliptical
Rower
Stair Stepper
HIIT
Hiking
Yoga
Functional Strength Training
Dance
Core Training
Pilates
Swimming
Tai Chi
Wheelchair
Multisport
Other (custom workout)
For each of these workouts will come a default set of metrics that you can use, or you can customize your own that you want to focus on. For example, for swimming, you may want to know your heart rate, duration, distance, and calories burned. You can edit the metrics of your main workouts by first opening up your Apple Watch app on your iPhone.
First, tap workout in the app list, then workout view. Ensure that you have Multiple metrics checked. You'll then find a list of all the different workouts beneath this workout view option. Tap which workout you want to customize the metrics for.
To remove a metric from that workout metric list, tap the red minus button next to the metric in the list. To add a metric, look under the list of metrics under "Do Not Include", and tap the green plus sign next to each metric you want to add. Tap and hold to drag each metric in your list to reorder them in the order you want.
This is the order it will appear on your Apple Watch, so you can prioritize your most viewed metrics for that workout. Press Done once you've finished updating.
To view your different metrics on your Apple Watch, turn the digital crown to scroll through the different metrics in the list you've customized, and each metric will appear in red on your watch screen so you can easily read it at-a-glance.