Does The White Apple Watch Band Stain?
So, you've bought a white Apple watch band but are worried if it will stain? It's a valid concern and one that every Apple Watch user has.
The white Apple Watch Band is made from stain resistant materials, making it durable and able to withstand every day wear, tear, and dirt. There is also a special coating on the band that prevents staining and discoloration.
We are experts in all things related to Apple products and have helped provide numerous people with the answers they crave about Apple watches. That's why we are best placed to answer the question does the white Apple Watch band stain. Read on to learn more about the answer, right here.
How Do You Get a Stain Out of a White Apple Watch Band?
Nothing is more frustrating in life than getting stains on your white Apple Watch band. Removing the stains from the watch band can be a rigorous process but you can get it done if you go about it in the right manner.
The trick is using specialized cleaners that are designed specifically for removing spots and stains from the band. You should avoid using household cleaners such as soap or detergent because they can easily damage the material and also leave residue behind as well.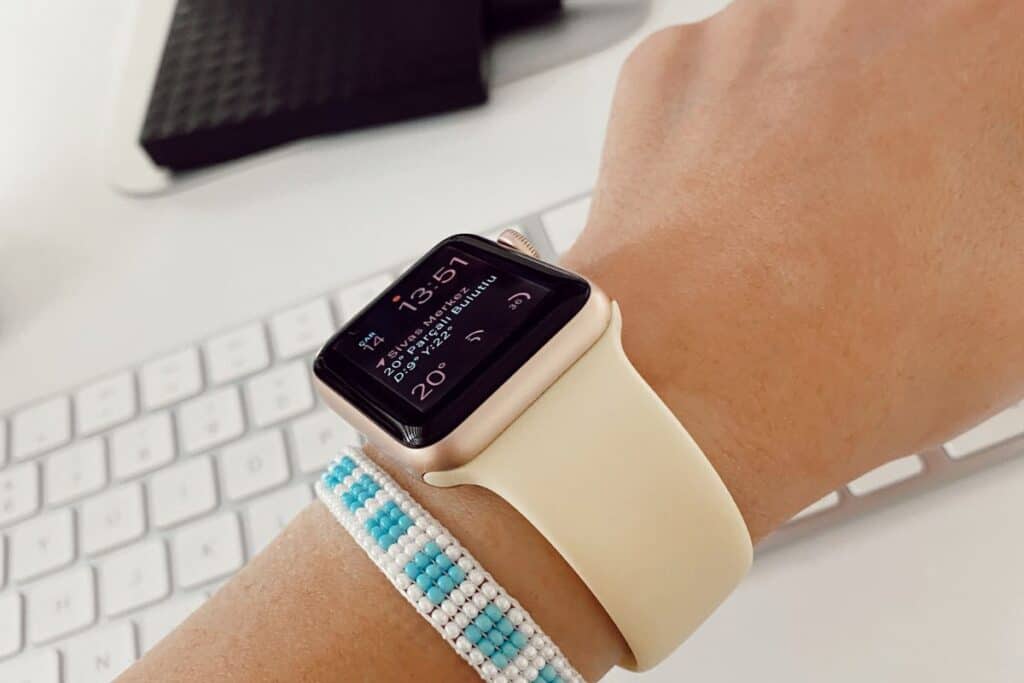 When you're trying to clean the watch band you have to ensure that you don't completely submerge the band in water, but instead clean it with a damp cloth. Don't scrub abrasively on the band as you risk scratching the surface and causing even more problems for yourself.
If you're not using a specialized cleaner for the band, you can use alcohol or hydrogen peroxide to rub on the band. You need to dilute this mixture with water and directly apply it on the affected areas of the watch band. Once you do that you must wipe away the residue with a cotton swab or a damp cloth. Then let the watch band dry in the air before you put it back on.
If you're dealing with stubborn stains that aren't removing from conventional methods, then the only trick left is to take the watch band to an Apple authorized service provider, so that they can remove it quickly and safely.
You must remember that Apple watch bands can get stains on them if you aren't taking good care of them, and that is why you must take all necessary precautions. That means you must remove the Apple watch band when you're showering or swimming and don't expose it to fragrances or harsh chemicals.
Do Apple Watch Bands Get Stained?
In general, Apple Watch bands are not prone to staining and will be in their original condition for long periods with proper maintenance. Most people don't take proper care of their Apple watch bands, which is why they often have to deal with stains on their Apple watch band.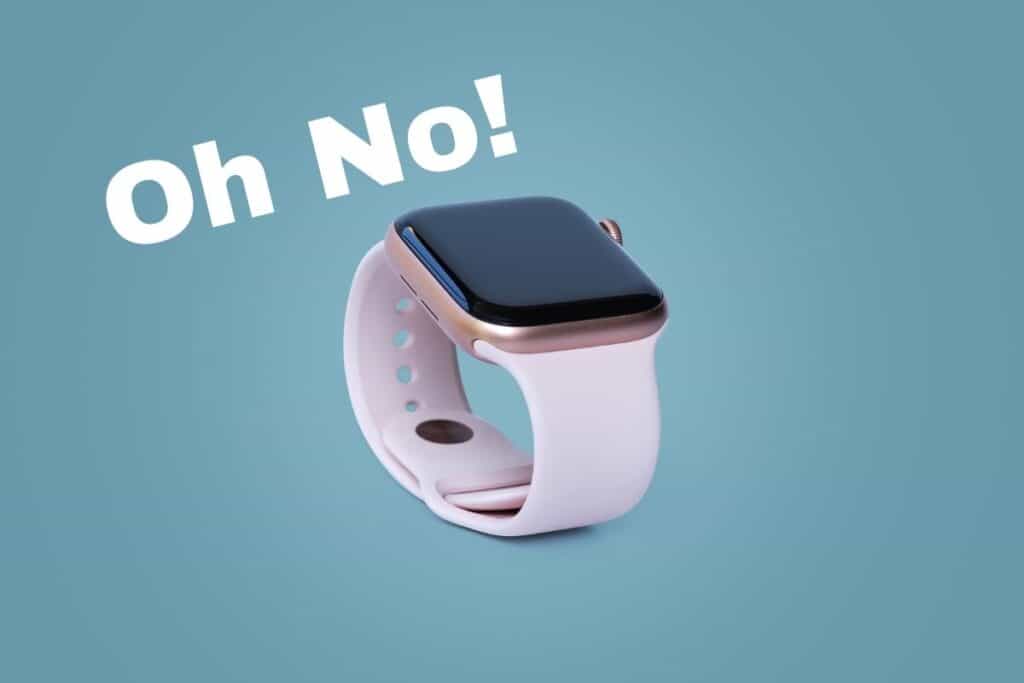 That's why it is imperative that you practice regular maintenance and cleaning, so that you don't get any staining or discoloring on your Apple watch band. It's also important to remember that you can easily get rid of small stains on your Apple watch by cleaning it with a damp cloth, which will keep all dirt particles away.
You must also take care when storing your Apple watch band, since you must not store it in direct sunlight. That's because the harmful rays of the sun can result in discoloration and fading on the Apple watch band.
If you have noticed that there is dirt and grime building up on your watch band, you can use a mixture of mild soap and water to clean it away. By taking the proper steps and practicing regular maintenance you can easily ensure that your Apple watch band doesn't stain and looks like new for several years.
How Do You Clean a Dirty White Watch Band?
It can be challenging to clean a dirty white watch band, but it's not something that should give you too many headaches. All you need to do is follow the proper procedure for cleaning the watch band and you will have it looking like new in no time. Here is how you can go about it:
Take a toothbrush and start brushing away all the debris and dirt that has accumulated on the band.
Once the band is looking clean, you must soak it in warm and soapy water for at least 10 minutes and scrub it with a sponge or cloth.
If you notice tough stains, you can create a baking soda and water mixture and apply this paste on the stains.
Scrub the paste thoroughly on the stain and then rinse it with lukewarm water.
Let the watchband dry in the air and clean it with a microfiber cloth.
To ensure that your watchband remains clean, you must regularly clean it with a damp cloth to get rid of any dirt or dust.
Don't use any abrasive materials or harsh chemicals to clean the watchband as you can easily damage it.
If you want extra protection against wear and tear you must apply a coating of sealant to the watchband. That will help in preventing staining and discoloration of the white material and keep your band looking like new.
These were some of the best tips and tricks to clean a dirty white watch band, and have it looking like new once again. To ensure that you're not damaging your band while cleaning it, you should follow instructions from the manufacturer, so that you don't cause further damage.
How to Clean Your Apple Watch and Bands Effectively?
It's important to regularly clean your Apple Watch and bands, as that will aid you in extending the life of your Apple watch and maintain its appearance and functionality. You should also know that Apple Watches and bands come in different materials, which can affect the way that you clean and maintain them. Here are a few different materials you should be aware of:
For stainless steel or aluminum watches:
Always use non-abrasive, lint-free cloth to clean stainless steel or aluminum watches. When you're removing the dirt from the grooves and other hard-to-reach places, you can use a toothbrush and rub rigorously to get all the grime loose. Once the watch is clean, you should allow it to dry completely and using a soft microfiber cloth can aid in that.
For leather bands:
When cleaning leather bands, you must always use a clean and dry microfiber cloth. For bands that are especially dirty, you must use cloths that are dampened lightly for removing dirt and certain oils, without causing undue damage to the leather. To deep clean the band, you should use a soft brush and use a solution of mild soap and warm water. Once the leather band has been cleaned you must let it air dry before putting it back on.
For nylon or fluoroelastomer bands:
You can clean Nylon or fluoroelastomer bands with a solution of mild soap and warm water. All you must do is rub your finger over the band in circular motions, until you see that all visible dirt and grime has been removed. When you're trying to clean the band thoroughly, ensure that you're using an old toothbrush to get into those hard-to-reach areas. Once the band has been cleaned you must let it rest outside to air dry.
It doesn't matter what Apple Watch or band you are using, you must never clean it with harsh chemicals, abrasive materials, or solvents. You can easily damage your watch and the band by using these items, which is why it is best to avoid them altogether.
So, there you have it, all the different types of Apple watch bands and the intricate methods for cleaning them. Ensure that you take proper care and practice regular maintenance of your watch band to have it lasting longer and looking like new for longer.
Key Takeaways
Stains can be difficult to remove on your white Apple Watch band.
To clean your watch band, ensure it's not submerged in water.
Apple Watch bands are not prone to staining.
Stubborn stains can be removed by an Apple authorized service provider.