Can You Connect Oura Ring To Peloton?
When it comes to fitness trackers, you have a massive variety of options, anything from watches, bracelets, and even rings. But, if you decide to go with a ring, the Oura ring is one of your best options, but when it comes to how well it can track, you might want to know how well it can manage its tracking ability.
The Oura ring is unable to connect to a Peloton machine in order to track fitness or heart rate. The Oura ring is capable of tracking a variety of different exercises including cycling, and also can connect to many different devices, however, it is unable to connect to a peloton device.
So, while you are going to be unable to connect to your Peloton cycling machine, you still are going to have plenty of different options when it comes to what Oura is going to be able to track. There are many options for devices that can help keep track of all of the different information the Oura ring records. Keep reading to find out more about the options available!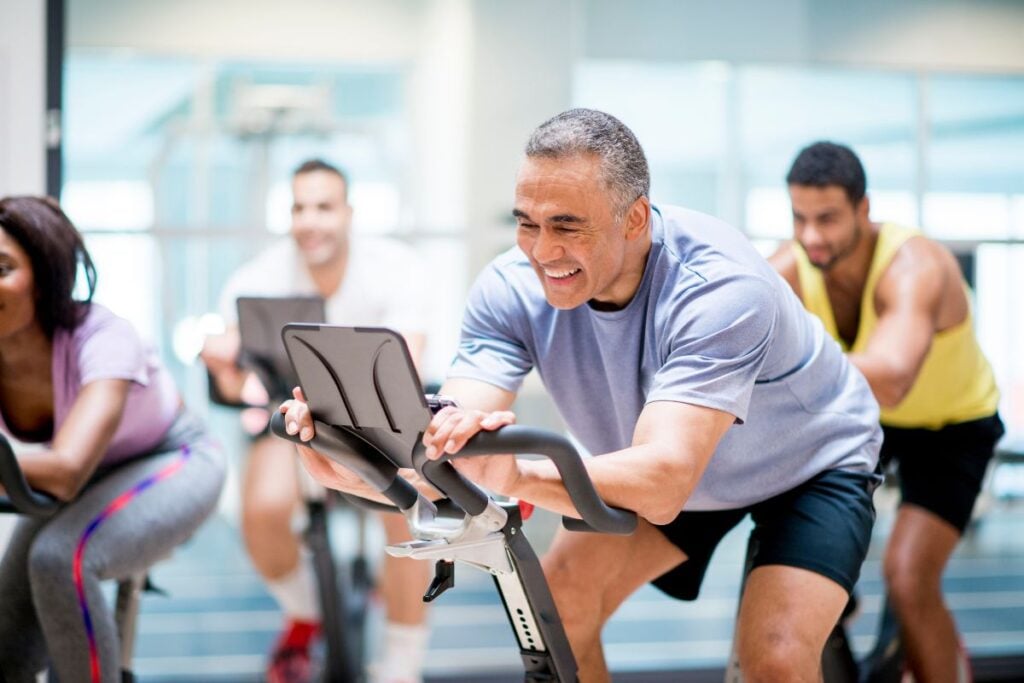 Does Oura work with peloton?
The Oura ring is unable to connect and work with any of the Peloton machines. Although there are many different versions of the ring, there still hasn't been a ring that can connect with the machines in order to track your workouts and heart rate while using them.
The only way the ring can keep track of your fitness when using a Peloton device is if you are wearing the ring while working out.
Can Oura Ring detect cycling?
Yes, the Oura ring is able to detect when you are cycling!
As you move around and engage in different physical activities, Oura keeps track. By viewing the movement graph on your Activity tab, you can quickly understand when and how you've moved throughout your day.
By identifying unique patterns in your movement over short periods of time, Oura can identify particular activity types, such as cycling, soccer, tennis, or the use of an elliptical machine.
If you already track your activities using another device, Oura can identify when the same activity has been detected and will only present one of them in your Oura App.
Any activity you've manually added in the Oura App will take precedence, followed by workouts imported via Apple Health or Google Fit. If your activity hasn't already been tracked using one of the methods above, AAD will pick it up.
Because movement captured by AAD comes from your real-time physical experience, this feature offers a more accurate calculation of calories burned during an activity. As you continue to use AAD and confirm activities, your detected workouts and their details become more precise as your personal movement tendencies add up over time.
What devices work with the Peloton?
The Oura App is supported on iOS devices running Apple iOS 13 and higher, or on Android devices running Android 8.0 and higher with Google Play services. Your device must support Bluetooth 4.0. You can also access most of your Oura data using Oura on the Web.
Your Oura Ring must be within Bluetooth range in order to sync its recorded data with the Oura App. The ring will collect data even when in Airplane Mode or not connected to the app.
Apple Health
While setting up your account after first downloading the Oura App, you'll have the option to enable Health. If you choose not to enable Health during the initial setup process, you can use the steps below to integrate the apps at a later time.
On Your iPhone:
Open Apple Health
Tap your profile picture in the upper right-hand corner of the Apple Health app
Under "Privacy," select "Apps"
Select "Oura"
Select "Turn On All" or select which categories you'd like to share between Oura and Apple Health
When you sync your Oura data, Apple Health updates will appear after you've completed an activity or workout.
Google Fit
While setting up your account after first downloading the Oura App, you will have the option to enable Google Fit. If you chose not to enable Google Fit during the initial setup process, you can use the steps below to integrate the apps at a later time.
In the Oura App:
Go to the menu in the upper left-hand corner of the Home tab
Tap Settings > Tap Google Fit
Enable the following parameters:

Connect to Google Fit
Import Workouts from Google Fit
Mindful minutes to Google Fit
To confirm you have successfully integrated Google Fit:
Open Google Fit
Tap Profile, then tap the Settings icon in the upper right-hand corner
Tap Manage connected apps
Ensure Oura is listed as a connected app
Strava
Link your Oura account to Strava to make every workout and activity count.
By integrating Oura with Strava, you'll get credit for Strava activities in the Oura App and can easily share your Oura workouts with friends on the Strava app.
In the Oura App:
Tap the menu in the upper left-hand corner of the Home tab
Tap Settings
Under "Data sharing," tap "Other apps"
Tap "Strava" and then "Continue"
Follow the prompts to log in to Strava
Tap "Authorize"
Choose which data to import or export
Natural Cycles
You can now use your Oura Ring with Natural Cycles, the first FDA-cleared birth control app.
Natural Cycles users with an Oura Ring can automatically sync their temperature trend data collected overnight into the Natural Cycles app each morning, which will then be analyzed using Natural Cycle's algorithm to calculate daily fertility status.
There are no changes in the Oura App. The Natural Cycles app is available on iOS or Android.
Open the Natural Cycles app
Tap the top menu > Settings > My device > Connect Oura Account
Wear your Oura Ring to bed
In the morning, your temperature trend data from Oura will automatically sync with the Natural Cycles app. You can also manually sync your data by opening the Natural Cycles app and pressing the "Sync Oura Ring" button from the "Add Data" page