Here's Why Your Apple Watch Is Greyed Out!
There are many great features on Apple Watches, and there are many features to make these watches useable for people who need accessibility help. But why is your Apple Watch greyed out?
An Apple Watch can appear grey because of a feature in settings that allows grayscale to be turned on and off. This feature is on all Apple products, and it is in the Accessibility section of settings. There, people can find accommodations for vision, hearing, motor, and general help.
If your Apple Watch was mistakenly turned onto the grayscale mode, that is easily remedied. But, if you would like other settings turned on to make it easier for you to use your Apple Watch, read below!
How to Turn Off/On the Grayscale
If you do not like the grayscale, turning it off is easy. You need to open Settings or System Preferences, then tap on Accessibility. There, options will appear and you will see something that says Grayscale. If it says on, then tap to turn it off, and vice-versa.
People who may benefit from the grayscale are color-blind people, vision-impaired people, and people with light sensitivity. The grayscale can make it easier to distinguish between buttons and other things that are typically colorful. It also people who have a hard time looking at screens and bright colors, so if you find that after turning it off that you prefer it on, then go back into System Preferences and turn on the grayscale.
You can do the same thing on your iPhone, iPad, and MacBook. The grayscale is under the Vision section, and amongst that there are also sections for Hearing, and Physical and Motor Skills. More about these features will be discussed below, but not all features listed in the next section are available on every device type.
You can use the dark mode, night shift, and true tone to adjust the lighting and colors on your device as well. So, if you like accommodating your watch to your needs but the grayscale is not for you, look at these options as well.
If you need help or want guidance in setting up the right features for you, you can read below and look at the links that lead you to Apple's sight that have instructions and explanations for you. And, you can call Apple Support for a representative to walk you through these features and explain them to you love the phone. You can also go in-person to an Apple store, but if there isn't one close by, calling Apple Support works great.
Other Accessibility Features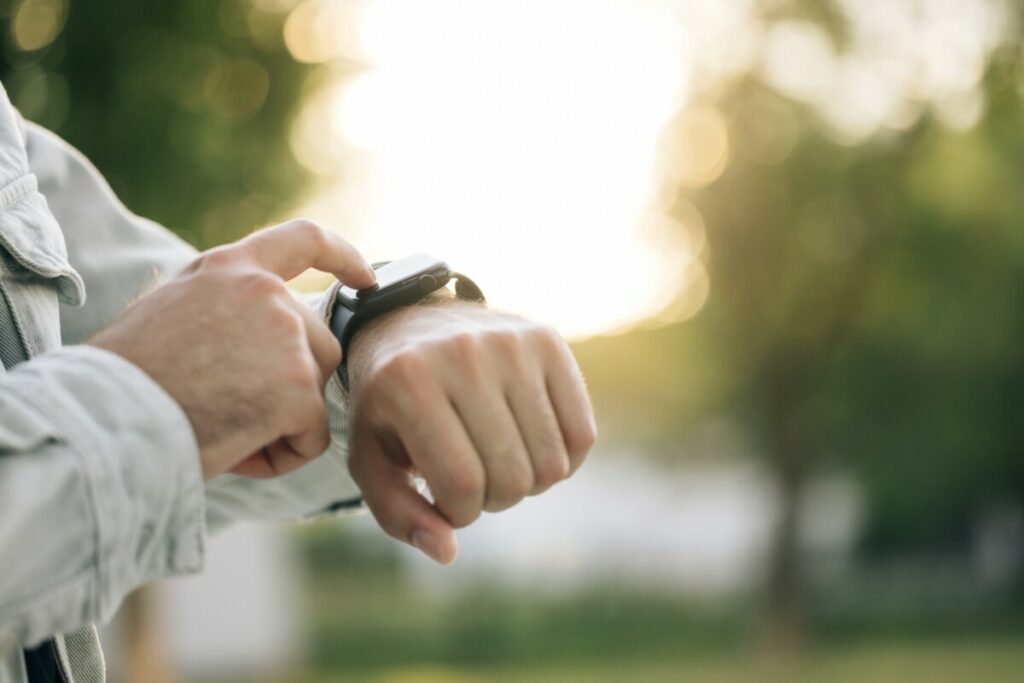 As you read, there are sections for Vision, Hearing, and Physical and Motor Skills to help any person be able to accommodate an Apple Watch, iPhone, iPad, MacBook, or another Apple device to them. More information about Apple's accessibility features is below.
Vision
You have options like voice-over, voice-over + braille, spoken content, magnifier, text size, display settings, zoom, hover text, studio descriptions, accessibility shortcut, reduce motion, dictation, dark mode, and Siri.
Grayscale is in this section among other options. You can see that depending on if you are blind, color blind, or have poor vision, there are options for you. These settings help people of all ages and can help people with disabilities. In fact, your grandparents or parents may use grayscale as their vision worsens with age.
You can also accommodate your device to not have harsh lighting. If your eyes hurt with light intake, using dark mode can help. You can also take the blue light down by turning on Night Mode. While in Night Mode, the screen becomes more yellow/orange to take away the blue light.
There are many features that you can use that are made for people who are vision impaired, but some of these types of features are helpful for everyone. Not all options can be used on the Apple Watch, but you can open System Preferences on your Apple Watch and discover what is available for you to turn on.
Hearing
For this section, you have options like live captions, conversation boost, headphone accommodations, sound recognition, live to listen, sensory alerts, real-time text, mono audio, closed captions, noise app, as well as classic apps like Facetime, Messages, and Siri.
There are many great features to help you out if you need to accommodate your phone to work with your hearing. You can use AirPods with your other Apple devices, and they have the ability to pick up the talking and other noises around you so that it can make them louder in your ear, which can help if it is slightly difficult for you to hear.
This feature, among the other features in this section, is great for those who need help hearing people in larger gatherings and parties, but they are not very helpful for people who need hearing aids.
Physical and Motor Skills
This accessibility section involves voice control, switch control, assistive touch, quick actions for Apple Watch, alternative input, back tap, touch accommodations, hardware keyboard support, accessibility keyboard, dictation, predictive text, activity app, workout app, and Siri.
Here you can see that there are many ways that you can make your Apple products work better for you. You can create touch and taps to replace pinching, zooming, scrolling, etc. if needed. This is great to help you navigate your watch or phone without needing to comply with the regular touch settings.
Cognitive
In this accessibility section, you can control features such as live captions, background sounds, spoken content, safari reader, guided access, facial recognition, iCloud Keychain, Find My app, iWork, dictation, Siri, hover text, focus, predictive text, scribble, screen time, and live captions in FaceTime.
Many of these have already been listed, but they apply to this section as well. You can see that features that help read around what is on your device, type without needing to tap on letters, and being able to unlock your device without typing in a code are all great features that make Apple devices more accessible.